C&D Snickeri.
C&D Snickeri & Masterwood. A meeting between two "special ones"
by Jonas Strandh -
Mared.se
Interview with Nicklas Nolberger, Production Manager at C&D Snickeri AB - Swedens largest company when it comes to special carpentry.
C&D Snickeri AB are specialized in unique, creative and demanding production where mainly architects from all over the world sets the standards.
The customers are spread throughout the globe - from North America to Asia.
We are proud to say that their latest investment was a Masterwood Project 565L with automatic setting table.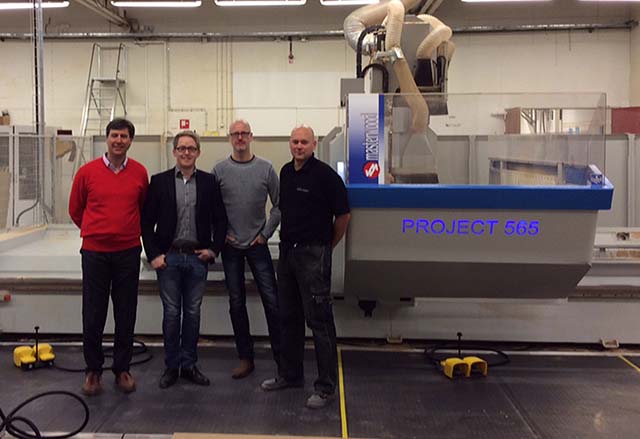 Q:
Almost six months has passed since you've received the machine. What are the biggest differences of working with five axis than three and four axis that you had before?
A:
Well first of all it feels great to be in full production with the new machine. To take the step to work with five axis was highly prioritized within the company and we felt ready to take on that step due to that we've been working with Top Solid for more than five years and got the experience in a 3D environment.
To work fully with five axis has given us new opportunities to finish the workpiece while it's fixated on the CNC working table instead of leaving some operations for another machines. We are specialized in demanding production where the customers sets tremendously high demands on design, functionality and of course quality so we needed a machine that mirrors our customer's demands.

Q:
To work with an automatic setting table is new for C&D Snickeri. What's your thought on this?
A:
To have a machine with automatic setting table was absolutely obvious for us when we started the discussions with Ingenjörsfirma J Mared AB (the Swedish dealer). We have a production that needs to be flexible and fast when it comes to setting up the machines in between our many different types of details. With this very fast and accurate automatic table we minimized the downtime enormously and we can produce higher volumes then before, in particular when it comes to batch-size-one production.
Q:
What made you to choose Masterwood and Mared AB as a supplier?
A:
We needed a machine that will maintain stable and give us high precision for many years due to the fact that we produce heavy things like for instance big entrance doors. So when Mared presented Masterwood's newly born Project 565L which is a heavy bridge constructed machine it definitely sounded like this is something for us. Essential was also the automatic table and the precision within it and on this point we are absolutely satisfied with what Masterwood has achieved.
From the beginning we took in offers from three different dealers but after discussions and considering different options Masterwood and Mared came out on top. The machine felt right, good relations with competent salespersons within both Mared and Masterwood. Furthermore we found out through references that both Mared and Masterwood's service organizations work very well which we now really can see.
Q:
So what about the future Nicklas?
A:
Well, after over one year of intense contact with Mared and Masterwood as a strong partner for future investments they will absolutely be contacted when new procurements will take place.
Professionalism, knowledge and good attitude links both Mared and Masterwood.
Please visit C&D Snickeri homepage to find out more of what they are doing.
www.cdsnickeri.se
www.cdsnickeri.se/blogg